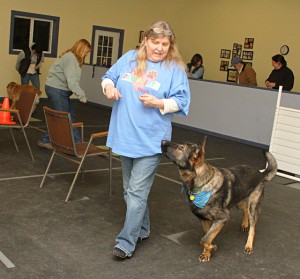 Did you miss out on puppy class? Adopt an adult dog that is lacking manners? Or could your dog just use a remedial course in good behavior? This is the class for you. Family Dog Life Skills is about teaching and appreciating real-life, practical skills, such as walking nicely on a leash, settling down, meeting strangers, table manners, attention, and coming when called, just to name a few. This class will provide dog/student teams the opportunity to develop these skills together, progressing through levels till they reach their desired goals. Moreover, by using those skills in everyday situations, a dog can become a well-behaved member of your household and a welcome part of society. Class size is limited to 4 or 5 dogs per session. New sessions begin once a month!
For: All dogs over 16 weeks of age
Length: 6 Weeks
Date: See online schedule for times.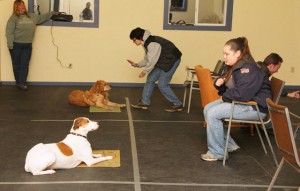 Where: Your Dog's Place, Honesdale, PA, (click for map)
Cost: See online schedule for current pricing.
Prerequisites: Current Vaccinations (please bring proof).
The class covers: Good manners, including sit, down, stay, loose leash walking, polite greetings, paying attention, come when called. Survival skills for dog parents including building good habits, setting up routines, and problem-solving.
To sign up for a class online click here or call 570.493.2353 or email us at sue@yourdogsplace.com today.